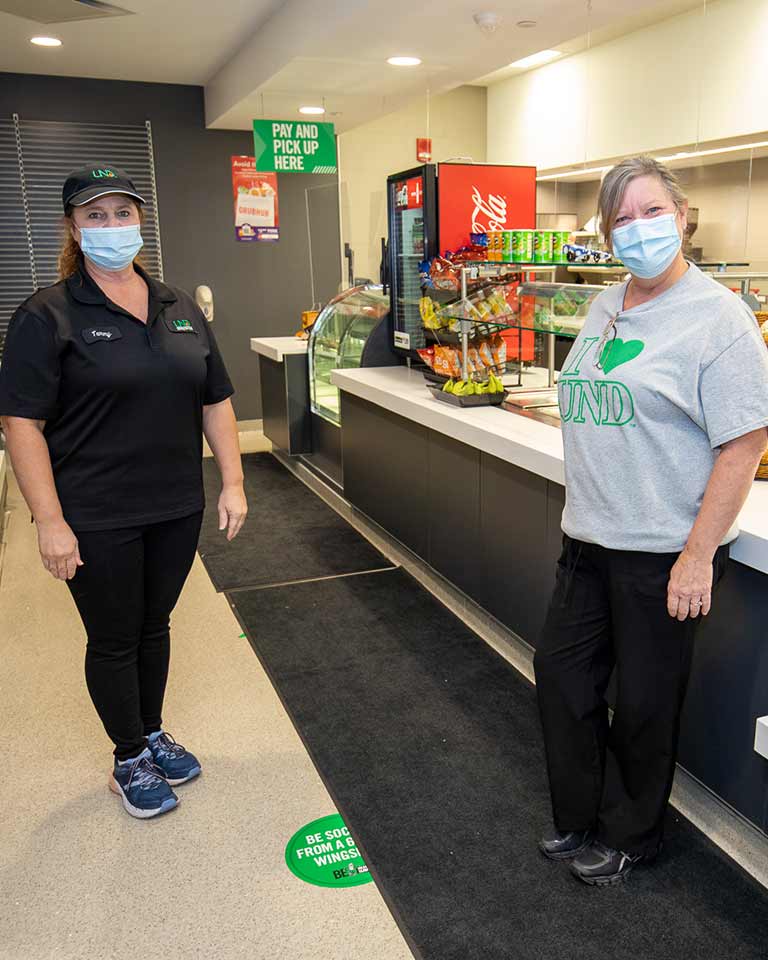 Join Our Team
Five Reasons to Apply
1. Full-Time Benefits
5% pay increase after a 6-month probationary period.
Fully-paid health insurance premiums for both single or family plans.
While retirement plan options details vary UND helps to set up their employees for a lifetime of financial success.
Work-life balance is important. At UND, faculty and staff are given ample opportunities to make sure the right balance of work and leave is found.
Education is the foundation of UND. Tuition assistance options are available for employees and the spouse and dependents of the employee.
See all full-time benefits.
2. Opportunity to Advance
Dining Services offers many opportunities to grow and advance in your position. Opportunities include cross-training in different service areas to learn new skills. Or advancing into a leadership role within Dining.
3. Being a Part of Something Bigger
The Dining Credo is, "To enhance the student dining experience by providing exceptional customer service and quality food at the University of North Dakota." When you work in Dining, you're a part of something bigger! You're a part of the UND family. You help support students through their college experience by keeping them well-fed and supported by the community
4. Have A Say
When you work at Dining, there are managers that are listening to you and your voice! You have a say, and your input is valued.
5. Free Meals
Each time you work a shift, you can get a FREE meal! You may eat during your break, before or after your shift.
Job Locations
Frequently Asked Questions
The pay for each position varies on the position type and if the position is entry-level or requires specific skills
All employees can get a free meal for each shift that is worked. You can have that free meal during your break, before, or after your shift.
Dining Centers, Memorial Union & Retail
Each location and area has a different need based on the season, day of the week, and time of day. Start times are all based on when the most support is needed. There are generally three different types of shifts that are offered:
Early morning: starting around 6:00 am
Mid-day: starting around 10:30 am
Late-Night: starting around 11:00 pm
Catering
With every event having different needs, the typical shift for catering varies. They are also dependent on the event time, which could be in the morning, afternoon, weekend, and even at night. This is great if you're looking to work hours that aren't always the same.
Positions range from entry-level to specific skills being required. For entry-level positions, prior experience is not needed to apply! We offer in-depth training for all of the new positions so they are comfortable with the work they will be doing before getting started.
We need experienced leaders to help keep our operations running. There is always an opportunity to grow into leadership positions!