Nutrition
Nutrition resources to make it easy for you to make good menu choices.
Guiding Stars
Look for Guiding Stars next to your food choices.
Guiding Stars rates food based on nutrient density using a scientific algorithm. The more nutritional value a food has, the more Guiding Stars it receives.
Guiding Star = Good nutritional value
Guiding Stars = Better nutritional value
Guiding Stars = Best nutritional value
How it Works
A proprietary algorithm based on a food's nutrient density per 100 calories determines the Guiding Stars 0, 1, 2, 3 rating system. Meaning, foods are individually rated against a strict standard, not each other.
And it's a standard grounded in evidence-based nutrition science — our Scientific Advisory Panel consults the current dietary guidelines and recommendations of leading national and international health organizations.
Fruits & Veggies More Matters
Having a hard time figuring out what the proper portion size or serving size for your fruits and veggies? Now there is an easy solution! Fill your plate with half fruits and veggies!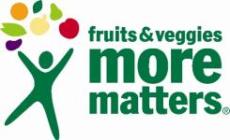 Top 10 Reasons to Eat MORE Fruits & Vegetables
Color & Texture.

Fruits and veggies add color, texture...and appeal...to your plate.
Convenience.

Fruits and veggies are nutritious in any form - fresh, frozen, canned, dried and 100% juice, so they're ready when you are!
Fiber.

Fruits and veggies provide fiber that helps full you up and keeps your digestive system happy.
Low in Calories.

Fruits and veggies are naturally low in calories.
May Reduce Disease Risk.

Eating plenty of fruits and veggies may help reduce the risk of many diseases, including heart disease, high blood pressure.
Vitamins & Minerals.

Fruits and veggies are rich in vitamins and minerals that help you feel healthy and energized.
Variety.

Fruits and veggies are available in an almost infinite variety...there's always something new to try!
Quick, Natural Snack.

Fruits and veggies are nature's treat and easy to grab for a snack.
Fun to Eat!

Some crunch, some squirt, some you peel ... some you don't, and some grow right in your own backyard!
Fruits & Veggies are Nutritious AND Delicious!
Did You Know?
Eating an apple is equivalent to drinking a cup of coffee. Although apples do not have caffeine, the processing of apple carbohydrates gives the body a boost more powerful than caffeine.
MyPlate Mondays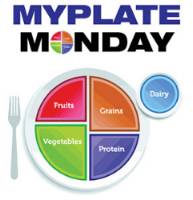 Participate in MyPlate Mondays at UND Dining Centers. Look for the display set up for the "suggested" meal or just follow the MyPlate identifier cards throughout the serving area and build your own balanced plate.
About MyPlate
MyPlate Mondays is a nutritional education program to help students follow the MyPlate guidelines developed by the USDA.
Students will recognize MyPlate and its guidelines.
On Mondays, students will choose food options that match the display/MyPlate recommendation.
Students will increase their consumption of fruits and vegetables.
Nutrition Connect Education Program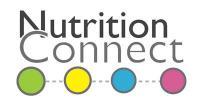 When the stress of life is high, where do most college students turn for relief? You guessed it - food. Unfortunately, it's not the healthy stuff they're grabbing on the go, and as a result many college students are compromising their diet and overall health in order to meet the demands of life. That's when nutrition connection sweeps them off their feet!
Nutrition Connect is an education program to help college students build the foundation needed to maintain a healthy diet for life.
Request a Presentation
We will prepare and present an education program for you, your group, or your floor. This is a great program for RAs and residence hall staff to bring to their residents. The following topics are available to help you connect the dots:
MyPlate.gov
Portion Control
Guiding Stars
Label Reading
Super Foods
Interested in a topic not listed? Contact:
Dustin Frize, RD, LRD
dustin.frize@UND.edu
701.777.2702
Nutrition Fact Sheets